Thursday, October 25, 2018 at 07:00 PM
Join YaleWomen Boston chapter, the Yale Alumni Non-Profit Alliance, and the Yale Latino Alumni Association at Rebuild Puerto Rico, a musical event. Ticket and food sales will benefit the relief and recovery effort for victims of Hurricanes Maria and Irma.
Purchase your ticket here: https://www.eventbrite.com/e/rebuild-puerto-rico-yalewomen-tickets-45042488295 
We are looking for YaleWomen Boston, YANA, and YLAA members to help promote the event, meet/greet guests, etc. Spanish not necessary but welcome. Interested? Contact event facilitator Marianna Krejci-Papa at marianna.krejcipapa@gmail.com. Questions? Contact event co-director Denise Alfonso at denise.m.alfonso@gmail.com.
---
Thursday, November 01, 2018 at 06:30 PM
YaleWomen WellWomen 
Thursday, 1 November 2018
6:30 pm to 9:30 pm
Renata Cesar's home, SW7
(will send more detailed instructions to the list)

*****

YaleWomen and YCL General Admission: £6.00
(discounted rates for certain 

categories - see registration)

*****
About the Event: 
A YaleWomen Social at Renata's home with a focus on discussing wellness and wellbeing. Two YaleWomen with a special interest in this topic, Justine Lutterodt and Victoria Stainsby, will lead the discussion by discussing their own journeys and we will also open the discussion to other initiatives attendees would like to share with the wider audience.
Victoria Stainsby (SY '87) will be discussing:
Mind-Body Health

Why and How Stress Makes You Ill -What's the connection (especially hormones and immunity) ?

Ways of Creating Awareness and Finding Balance

Justine Lutterodt (BK '01) will be discussing:
Chasing success - three drivers that get us off balance

How these drivers relate to traditional ideas about leadership 


How to approach success mindfully - so as to be better for your health, your career and your leadership development
Registration: 
Click here to register for this event. 
---
Thursday, November 01, 2018 at 07:00 PM
Connecting women ∙ Igniting ideas ∙ Transforming the world
YaleWomen Connecticut
Putting parity into practice:
increasing the number and influence of women in elected and appointed office
in the US and around the globe.
Join us for a thought provoking, inspiring, and energizing conversation with
Patti Russo, Executive Director
Women's Campaign School at Yale
Founded in 1993, WCSY is a nonpartisan, issue-neutral political campaign-training program.
To tee up the conversation, please see the rich resources in the postings on the YaleWomen Group FB page, including this one from the Yale News. (If you are not a member of this FB Group, please request to join – for postings of articles that might not other wise come your way and the inclusive, vibrant, respectful and meaningful exchanges that frequently emerge.)
Thursday, November 1, 2018 – in Woodbridge – 7-9 – over a light meal and dessert
RSVP to Anne Boucher '80 (amboucher@mmm.com) Anne's address will be provided to those who RSVP. Since Patti will be speaking at a tea at Pauli Murray College immediately preceding, we will start a little later and have a light meal and dessert/coffee!
A-L Appetizer/Salad
M-Z Dessert
---
Sunday, November 04, 2018 at 11:00 AM
Attention YaleWomen in the Sacramento area: you are invited for a special Meet & Greet so we can find and get to know one another! In addition, we can brainstorm what kind of activities would get us together as Yale alumnae living/working/surviving in the region. We'll enjoy a delicious brunch, a well-deserved break before the holidays, and great company!
Kindly help us with the head count - RSVP at https://yalewomen_sacramento_meetup.eventbrite.com.
(Joining us is free, but please be prepared to cover your own brunch.)
---
Monday, November 05, 2018 at 06:00 PM · 22 rsvps
Please join YaleWomen Boston and MIT Women in Physics for a conversation with Professor Meg Urry on Women in Science and black holes.  Professor Urry is the Israel Munson Professor of Physics & Astronomy at Yale and Director of the Yale Center for Astronomy & Astrophysics.    Her scientific research focuses on active galaxies, which host accreting supermassive black holes in their centers. She has published over 300 refereed research articles on supermassive black holes and galaxies and was identified as a "Highly Cited Author" by Thomson Reuters.  She is known for her efforts to increase the number of women and minorities in science.
6:00pm light refreshments will be served; 6:30pm discussion with Professor Urry
Yale Women are encouraged to bring their daughters or other science-curious young women
---
Tuesday, November 06, 2018 at 06:30 PM
It's been great to see many of you at the hikes in July and August! We're planning some more gatherings for this fall and winter - this time indoors, involving food and drink.

Please join us for conversation and connection and a few snacks/cocktails/dinner (or whatever you would like!). Besides, what a great way to start the week!

DATE & TIME
Mon, November 5, 2018
6:30 PM – 8:30 PM PST
LOCATION 
Irving Street Kitchen
701 Northwest 13th Avenue
Portland, OR 97209


More details and RSVP via Eventbrite: https://www.eventbrite.com/e/yalewomen-fall-dinner-tickets-51935175508  

Questions? Email Kate Carman, MEM '10: yalewomenportland@gmail.com
---
Thursday, November 08, 2018 at 06:30 PM · 6 rsvps
Cambridge, MA
Several of us have started a YWB discussion group focusing on life transitions, whether into an "empty nest", into semi-retirement, or whatever. If you are interested, please contact Margaret Loss, Law '70 at boston@yalewomen.edu. The next meeting will be a potluck supper at Margaret's house in Cambridge.  The address will be provided to those who sign up.
---
---
Thursday, November 08, 2018 at 06:00 PM
You are invited to enjoy the company of Yale women in the greater Bay Area region, and have the chance to hear from career advice specialist Sara Holtz '72 as she speaks on "how to learn from your mistakes and continue to thrive in your career". YaleWomen is about connecting Yale alumnae at every stage of life after Yale and continuing the journey we started in New Haven. With new grads in the area, the mid-term election behind us, and the holidays ahead, let's come together to reconnect with camaraderie and sisterhood.
In addition, this year some of our founding members will be retiring from the Chapter. For those interested in the future of YaleWomen of Northern California, we invite you to talk to those at the event and consider joining the Planning Committee. There's room for all levels of experience and availability in this busy region.
You must RSVP to be admitted at Airbnb. We are requesting a $20.00 fee per person to defray food and drink expenses.  Please register at https://yalewomen_bayarea_gathering.eventbrite.com
---
Sunday, November 11, 2018 at 02:00 PM
Please join members of YaleWomen DC for an interactive, hands-on LinkedIn workshop focusing on how to develop an effective 30 minutes/day LinkedIn connection and branding strategy for a job search, career transition or entrepreneurship. The workshop will be led by Elisse Wright Barnes, JD PhD. 
The workshop is limited to 18 participants.  Please register here. 
---
Sunday, November 11, 2018 at 04:00 PM
multiple locations in the Bay Area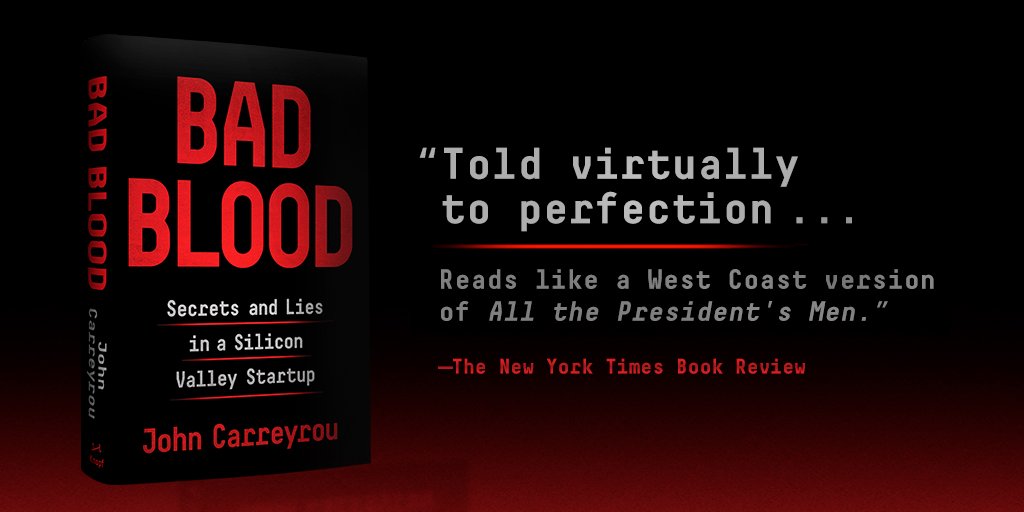 Theranos said it would change the way blood testing worked—it raised over a billion dollars on that promise. But in his new book, John Carreyrou uncovers that Theranos's greatest innovation was a technology as old as time: lying.
Sound interesting? Yes! Join us to talk about one of the hottest non-fiction works around.

We have three confirmed gathering locations in San Francisco, North Oakland, and San Mateo. To attend a November 11 meeting, visit https://yw-booknight-badblood.eventbrite.com to RSVP. Registration will close on Friday, November 9 at 8 PM.
---